Scores of residents at Akyem Kukurantumi embarked on a demonstration last Friday against their Chief Daasebre Boamah Darko II for allegedly attempting to lease 6000 acres of land to supposed investors without compensating its owners.
The disputed farmlands lying behind St. Paul Technical School to the boundaries of Akyem Maase, Akyem Adokwanta, Akwadum and Suhyen has allegedly been leased to a yet-to-be-known Italian investor but without consultation with the landowners.
The demonstration comes after petitions by the aggrieved residents to Okyenhene Osagyefo Amoatia Ofori Panyin, their Member of Parliament, Gifty Twum Ampofo and the Presidency yielded no response.
Opanyin Ampem Darko, convener of the demonstration said: "The chief has sold 6000 acres of farmland to a said investor without even consulting the landowners. So peoples cocoa farms, cassava farms, plenty things now disposed of. We can no longer farm."
He disclosed in his address to the protesting residents that legal action was being considered to restore and protect the land. "We will go to court to place an injunction on the land to ensure that the right thing is done."
Secretary to the Kukurantumi Youth Association Gifty Asare said many farmers would be disposed of their livelihoods affecting their children in the process if the decision is not reversed.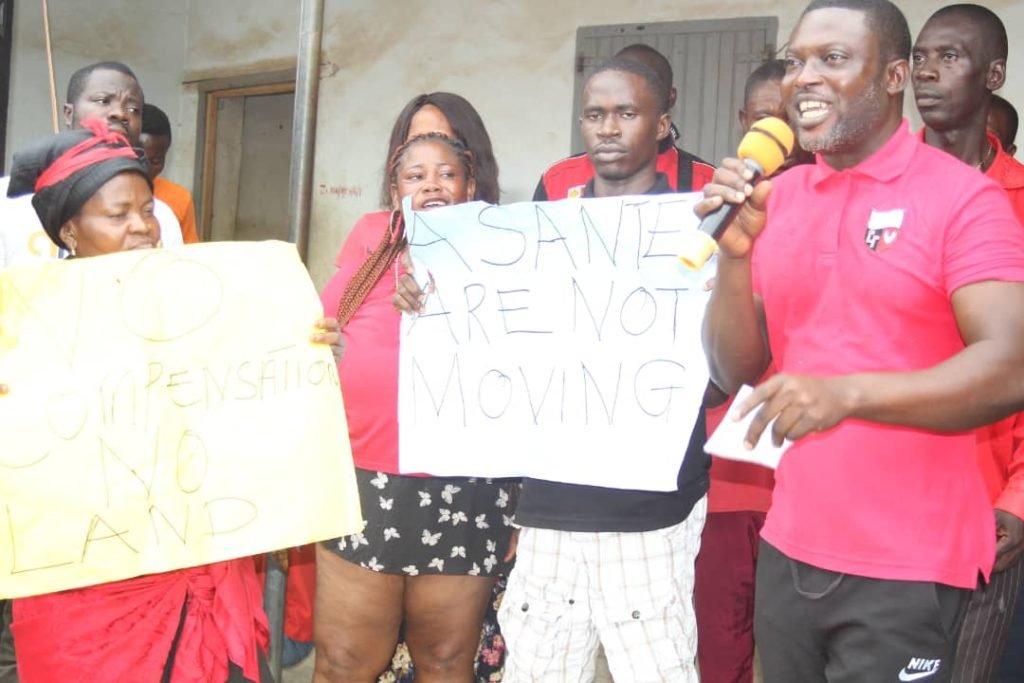 "All that we are saying is that the land the chief has sold is too much for us. We are thinking of the future. Selling 6000 acres of land where are we going to get land in future for our children, our grandchildren. So all that we are saying is that no compensation no land, 6000acres of land is too much we are not going to allow that," she said.
Asare alleges that some of the lands have been leased to some herders to rear cattle which they oppose.
Meanwhile, the Chief of Akyem Kukurantumi, Daasebre Boamah II in audio recorded and played on a local information centre called the bluff of the demonstrators, arguing that he is the custodian of the land, therefore, has the right to lease it for development activities.
He called out leaders of the demonstration "aliens" since they are not part of the two clans that own lands in the Akyem Kukurantumi Area.
The Chief has therefore tasked the Police to deal with anyone who attempts to foment trouble in the community.
Source: Starrfm.com.gh