President Nana Addo Dankwa Akufo-Addo has appointed a 15-member transition team to see to the transfer of power from his previous government to the new one set to begin on January 7, when he is inaugurated.
The transition team is headed by the Chief of Staff at the Presidency, Akosua Frema Opare, and the members include the Senior Minister Yaw Osafo Maafo, Finance Minister Ken Ofori Atta and other Ministers and presidencial staffers.
This is contained in a statement signed by the Director of Communications at the Presidency, Eugene Arhin.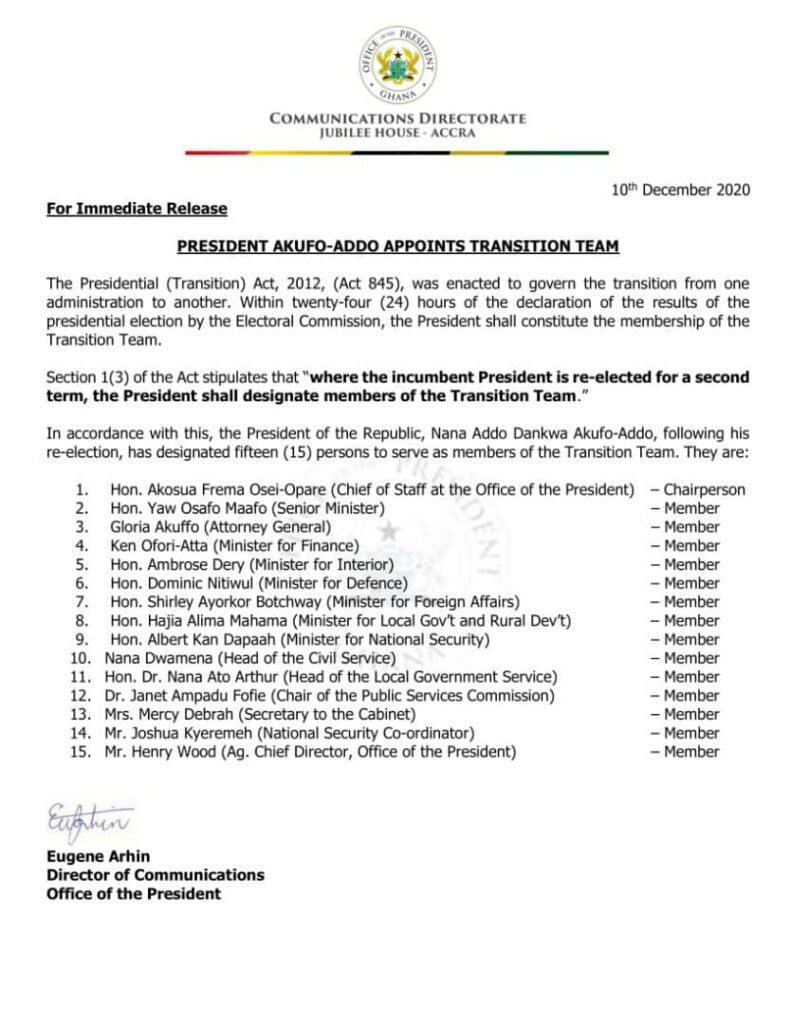 Meanwhile, the president has since being re-elected in the December 7 polls, resumed work as the sitting president, holding meetings and welcoming visitors to the presidency.
He has also assured Ghanaians he will not relax but work to fulfill every campaign promising, adding that his immediate priority would be to get the country back on the track of post-COVID-19 economic recovery.
The president won the elections with 6,730,413 valid votes, representing 51.59% and his closest contender, John Mahama of the NDC also polled 6,214,889 which gives him 47.36% of the total votes cast.
But the NDC has since rejected the results saying they will go to every length to prove that the results, as announced by the Electoral Commission was flawed.
Meanwhile, the Coalition of Domestic Election Observers (CODEO) has endorsed the results, saying that, based on their own collation, it is a reflection of how Ghanaians voted on December 7.
It is not clear what exactly the NDC intends to do about the results, but CODEO has suggested that every aggrieved candidate should use the legal remedies available to seek redress.