The National Democratic Congress (NDC) believes its parliamentary candidate is the legitimate occupant for the Techiman South seat in the just-ended general election.
The constituency's election was marred by some acts of violence which saw two persons dead after a scuffle among supporters of the NDC and governing NPP and some security agents.
Speaking at a press conference Tuesday, Minority Leader Haruna Iddrisu explained that the government is working to "deny the NDC a parliamentary majority."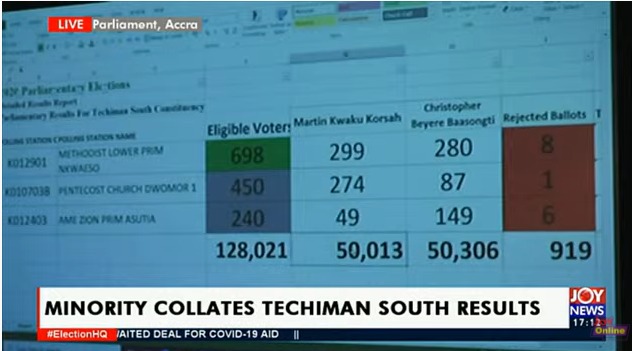 According to the party, data available to them indicates that the NDC secured 50,306 votes against the NPP's 50,013 with 919 rejected ballots.
The 293 vote margin would have made the NDC candidate, Christopher Beyere the MP-elect, according to the Minority.
The presentation was done by Deputy Minority Leader James Klutse Avedzi who gave the breakdown of the votes cast by the 128,021 eligible voters.
Mr. Avedzi presented the tabulation of what the MPs say are the certified pink sheets from the over 200 polling stations in the constituency.
Haruna Iddrisu further demanded that "we want to see the summary of the poll. But as to what we will do, leave it to us."
Meanwhile, the EC is yet to publicly publish the parliamentary results for the constituency on its website.
The NDC MPs have already threatened to boycott the inauguration of President Akufo-Addo for a second term if a re-collation of the parliamentary results in Techiman South is not done.